Shillong, Naitung 04: Ka Lympung Thohdur Satlak Pyrthei ne International Multidisciplinary Art Workshop ka ba san sngi halor ka phang 'Cross Cultural Identities: A Dialogue Through Art' ba la pynlong da ka Positive Energy Art Foundation ha ka jingiatrei lang jong ka ICSSR-NERC, Shillong la plie u Bah F R Kharkongor, Commissioner and Secretary, Arts and Culture Department, Government of Meghalaya mynta ka sngi ha salonsari NEHU.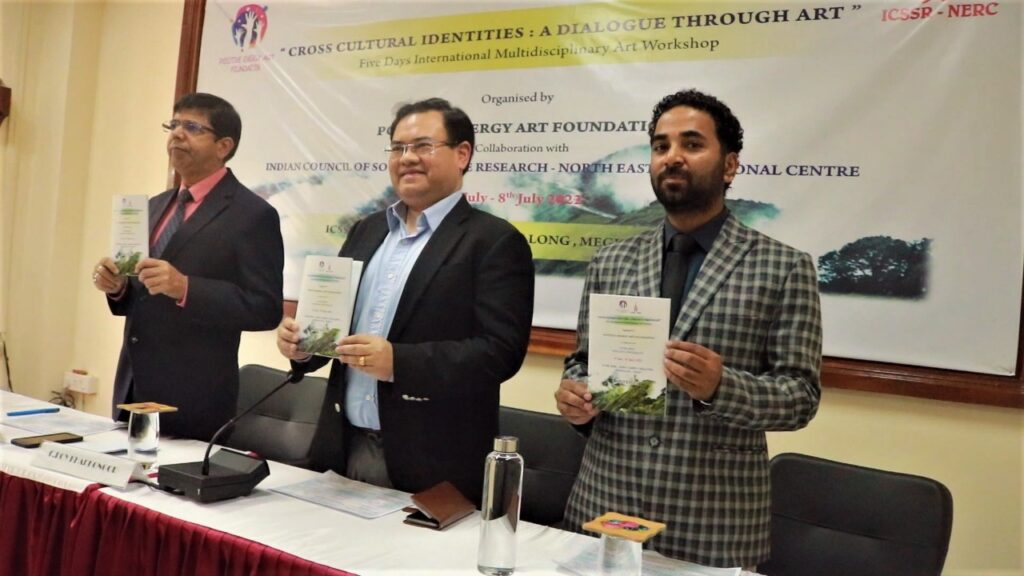 Ki kynrem lyndan ba la ia don ryngkat ki long u Prof. Bhagirathi Panda, Director, ICSSR-NERC, Dr Prakash Kishore, Director of Positive Energy Art Foundation, Dr Nabajit Deka, Principal, Government College of Arts and Crafts, Guwahati, bad u Bah Raphael Warjri, Chairman, Riti Academy of Visual Arts, kynthup ruh ia ki khatphra ngut ki simpah simsong na ki salonsari jong ki katto katne ki Ri kum ka Thailand, South Korea, South Africa, Sri Lanka bad hynñiew ngut na kylleng ka Ri India.
Ha ka jingkren jong u kongsan, Bah F R Kharkongor, u la pdiang sngewbha sha ka thaiñ shatei lammihngi ia ki kynrem lyndan na sha bar jong ka Ri India bad tyrwa ia ki ban wan mad ia ka jingitynnat jong ki sawdong sawkun ka jylla Meghalaya.
U bah Kharkongor u la kdew ia ka san ka mer jong ka mattithaw ha kylleng ka pyrthei ka ba la iaid lyngba ki por ha ba la rasong ki juk shaipyrthei ki ba la ktah jur ia ka imlang sahlang bad ka longbriew manbriew.
U la kynthoh ruh ba ka mattithaw ka dei ka kam ka ba sngur ban tei ia ka imlang sahlang ha manla kano kano ka bynta jong ka pyrthei.
Ha ka kynti mirnia la ioh ki jingkren na ki simpah simsong bad ki barikor na kylleng ki ba la pashat jingmut ia ka jinglong jingman jong ka mattithaw ha la ki Ri lajong; ka ba don ruh ka jingiadei ha ki liang ba bun jong ka deiriti, wat la ki don katto katne ki jingiapher ki ba phalang ia la ka jinglong kyrpang jong ki paidbynriew na la ka thymmei.