Shillong, June 18: Meghalaya has continued to receive heavy rainfall in the last 24 hours, with the monsoon covering all the 12 districts of the state. The heavy downpour has affected atleast 134 persons in 20 villages in the last 24 hours.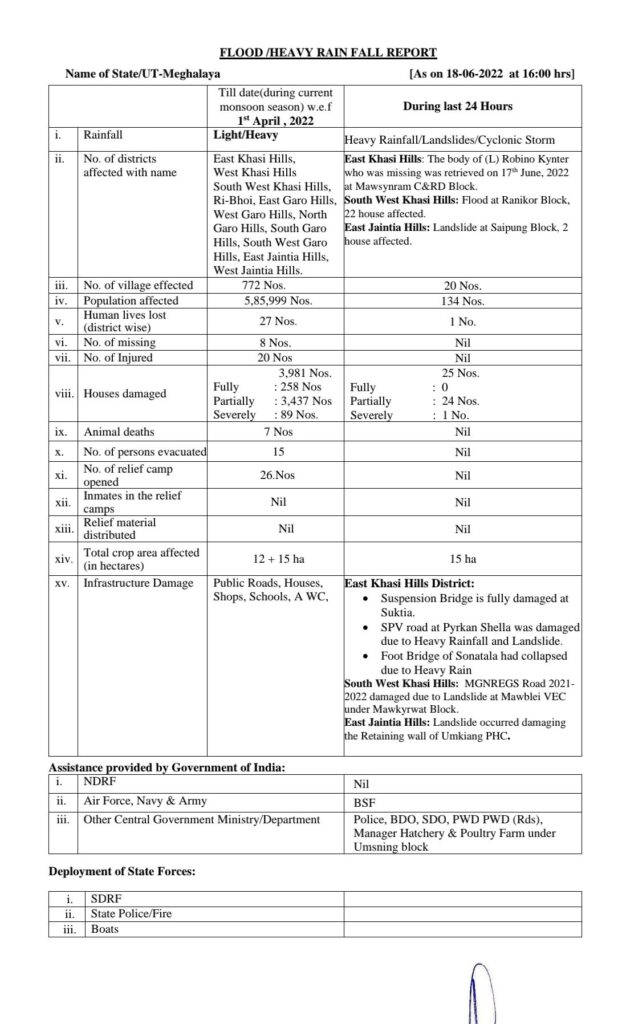 Since April 1, 2022, when heavy rains and cyclonic storms started to batter the State, around 5,85,999 citizens in 772 villages have been affected, a bulletin by State Disaster Management Authority (SDMA) on Saturday informed. It also put loss of human lives at 27, and 8 missing and 20 injured during the period. 27 hectares of crop area have also been damaged.
On Friday – Saturday alone, 15 hectares of cropland was damaged. One death was also reported in the last 24 hours, identified as one Robino Kynter, whose body was retrieved on Friday at Mawsynram C&RD Block in East Khasi Hills.
In South West Khasi Hills, flood at Ranikor Block inundated 22 houses.
In East Jaintia Hills, two houses were damaged in landslide at Saipung Block.
Overall, 25 houses were damaged across the state in the last 24 hours with one being severely damaged and 24 being partially damaged.
Since April 1 though, 3,981 houses have been damaged. Of which 258 houses have been fully damaged, 89 severely damaged, and 3437 partially damaged. During this period, 15 animals deaths also occurred due to heavy rain induced natural disasters.
In terms of infrastructure damage in the last 24 hours, one Suspension Bridge was fully damaged at Suktia, SPV road at Pyrkan Shella was damaged due to heavy rainfall and landslide, and the Foot Bridge at Sonatala collapsed due to heavy rain in East Khasi Hills District.
In South West Khasi Hills, MGNREGS road 2021-2022 was damaged due to landslide at Mawblei VEC under Mawkyrwat Block.
In East Jaintia Hills, landslide damaged the retaining wall of Umkiang PHC.
Relief camps remain empty, No relief material distributed
Interestingly, Government has setup 26 relief camps so far, but its occupancy remains 'NIL'; and no one had been shifted to the relief camps in the last 24 hours as well.
Similarly, despite the rains causing destruction for over 2 and a half month, relief material hasn't been distributed to any of the affected families by the government, the SDMA bulletin stated.