TURA, June 20: Changes have taken place in the State Top Twenty list of SSLC Examinations after MBOSE elevated 3rd rank holder in the state to 2nd position following reassessment of marks which is a boost for Garo Hills as the student hails from Tura.
Sherwood School student Arghadeep Ghosh who had been given the 3rd position in the state when SSLC Matric results were declared on June 10th has now been promoted to 2nd position in the top 20 list for this year's SSLC exams.
The MBOSE education board during scrutiny of marks found that one mark was left out from the total tally for Arghadeep Ghosh in the Maths subject. With the inclusion of the mark Arghadeep has now secured 98 and his total marks tally has risen to 569 placing him in second position of the state along with two other students from different schools in Shillong.
With his elevation to 2nd position of the state Garo Hills has now secured the top two positions of SSLC this year.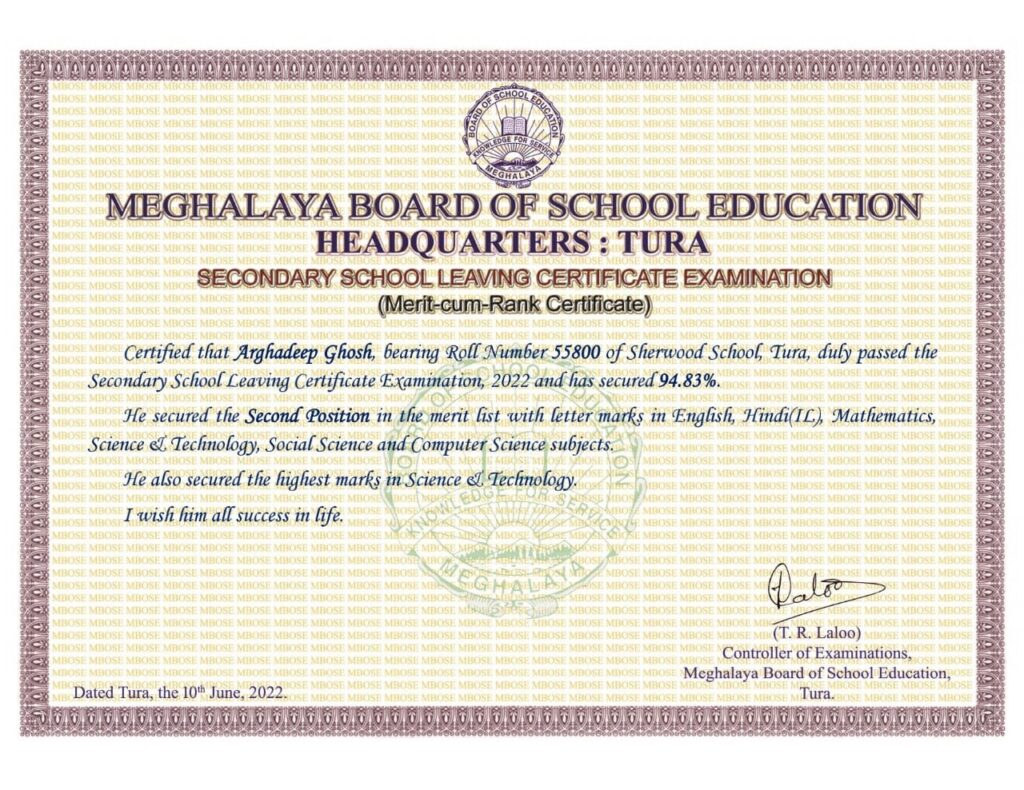 Another student by the same name, Arghadeep Saha of Woodland Secondary School in Dalu border town in West Garo Hills district whose school is a private institute along with Amebaaihunsa Kharbhih of St. Paul's Hr Sec School, Marbisu bagged the number 1 position in the state.
Arghadeep Ghosh of Sherwood School, Tura, now joins them in this elite ranking with 2nd position along with Menangmankhraw Kharkongor of St. Anthony's Higher Secondary School, Shillong and Rilaakor Lamare of Auxilium Girls Higher Secondary School, Shillong. All three secured 569 marks.
"I have no words to describe my feelings. I am overjoyed by the news of my son's elevation to second position in the state. I have seen him work immensely hard for these SSLC exams and he is now enjoying the fruits of his hard labour," said Assistant Professor Dr Arindam Ghosh, father of Arghadeep Ghosh.
Arghadeep secured highest marks (100) in Science and Technology subject and letter marks in English, hindi, maths, social science, science and technology and computer science.