TURA, July 27: West Garo Hills Deputy commissioner Swapnil Tembe has ordered a magisterial probe into the running of the farmhouse by BJP MDC Bernard Marak and EAC and magistrate Rezia Ch Sangma will head the probe and submit its findings within 15 days.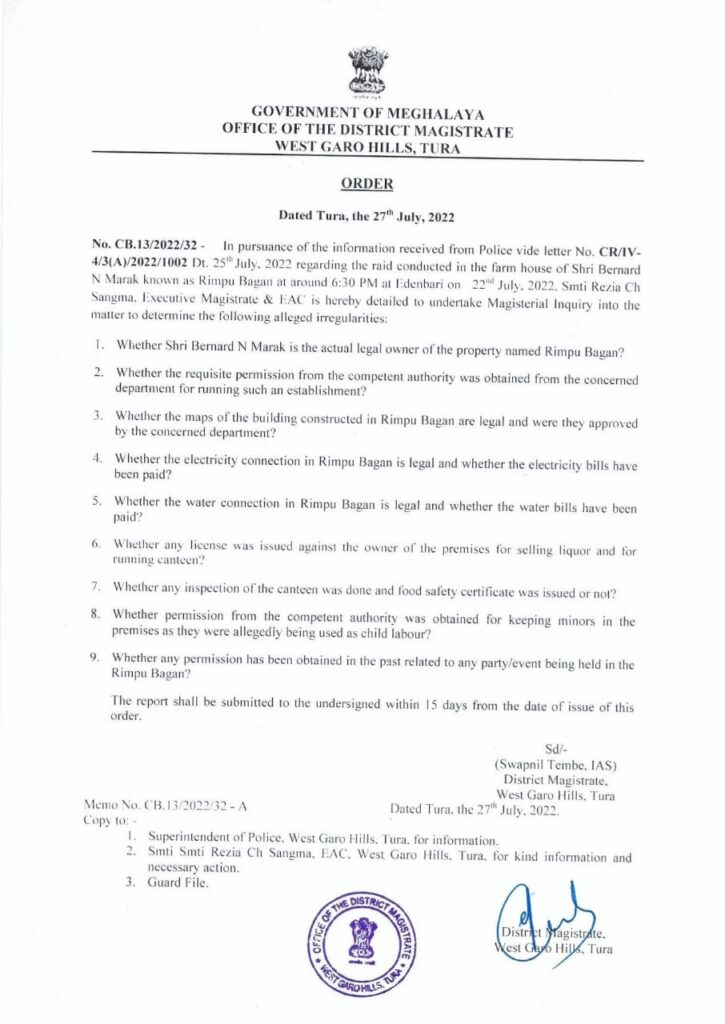 The points of the magisterial probe are, namely,
Whether Bernard N Marak is the actual legal owner of the property known as Rimpu Bagan.
Whether requisite permission from competent authority was obtained from the concerned department for running such an establishment.
Whether maps of the building constructed in Rimpu Bagan are legal and were approved by the concerned department.
Whether the electricity connection in Rimpu Bagan is legal and whether electricity bills have been paid.
Whether water connection in Rimpu Bagan is legal and water bills have been paid.
Whether any license was issued against the owner of the premises for selling liquor and for running canteen.
Whether any inspection of the canteen was done and food safety certificate was issued or not.
Whether permission from the competent authority was obtained for keeping minors in the premises as they were allegedly being used as child labour.
Whether any permission has been obtained in the past related to any/event being held in Rimpu Bagan.