Shillong, Aug 3: The Indian Army, Umroi Brigade, under the aegis of the Red Horns Division on Wednesday flagged-off the weeklong 'Freedom Ride- Trans Meghalaya Monsoon Odyssey', a pan-state motorcycle expedition, from August 3 to 10, 2022, as a way to celebrate 75 years of India's Freedom under "Azadi Ka Amrit Mahotsav".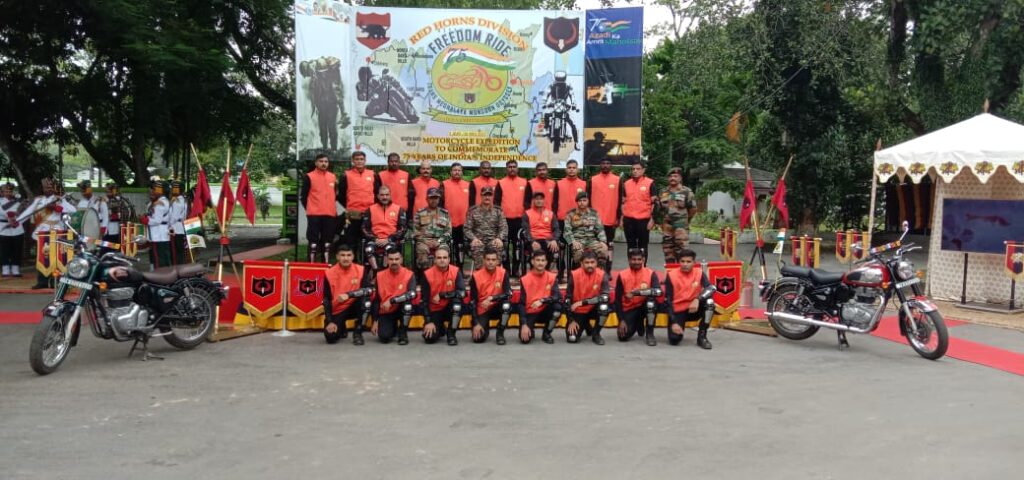 The ride will showcase gratitude and pay respect to the freedom fighters and armed forces veterans including Meghalaya's indigenous fighters who led the tribal resistance against the British in the 19th century. The sacrifice of these brave sons of the soil is what has brought glory and growth to the land and its people. The event is also aimed to promote a better understanding between the public and the Indian Army as well as to motivate the youth of Meghalaya to join the prestigious force.
The prestigious expedition of Red Horns division was flagged off by Lieutenant General DS Rana, AVSM, YSM, SM General Officer Commanding Gajraj Corps on Wednesday and is led by Brigadier K.M Shende, Shaurya Chakra, Station Commander, Umroi Military Station. The ride is aimed at the Indian Army collaborative public engagement opportunity in bolstering the public trust as well as showcasing the glorious tradition of the armed forces. The ride will be flagged in on August 10 at Umroi by Satya Pal Malik, Governor of Meghalaya, in a military ceremony.
The team of 25 bikers will traverse and touchdown in all 12 districts of Meghalaya covering 1100 km in 8 days. The expedition team will visit the memorials of three famous freedom fighters of Meghalaya, historically known as U Kiang Nongbah, Pa Togan Nengminja Sangma and U Tirot Sing. The 25 riders on behalf of Red Horns Visions will pay homage to these heroes who fought gallantly and sacrificed their lives as a strategic precursor to India's freedom struggle against the British.
The expedition also seeks to complete a journey through Meghalaya to celebrate the monsoons in the state and promote it as a biker's destination. The event will celebrate and explore the ravishing beauty of the abode of clouds by visiting the various unexplored splendid sites of Meghalaya.