Shillong Naitung 09: Kum shi bynta ban ai jingithuh ia ki nongpathai khubor kiba la ai jingshakri ia u paidbah lyngba ka kam pathai khubor ban ai iaki jingtip kiba paka, ha ka 9 tarik u Naitung ka University of Science and Technology Meghalaya (USTM) kala ai khusnam Media Excellence & Achievers Award 2022.
Ki Nongthoh Khubor kiba la ïoh pdiang ïa ka USTM Media Excellence Award ki kynthup ia ka Nongthoh kot ba paw kaba long ruh ka Editor jong ka Sadin ka Anuradha Sarma Puzari bad u Editor-in-Chief jong ka Da News Plus Pranay Bordoloi.
Katba iaka Media Achiever Award-2022 na Meghalaya la ïoh pdiang da u Bhabok M Laloo uba long u Sr Reporter jong u PCN & Assistant Editor jong U Peitngor bad ka Kong Ribha Merry Suchiang, Nongthoh khubor bad nongring dur jong u Batesi Tv.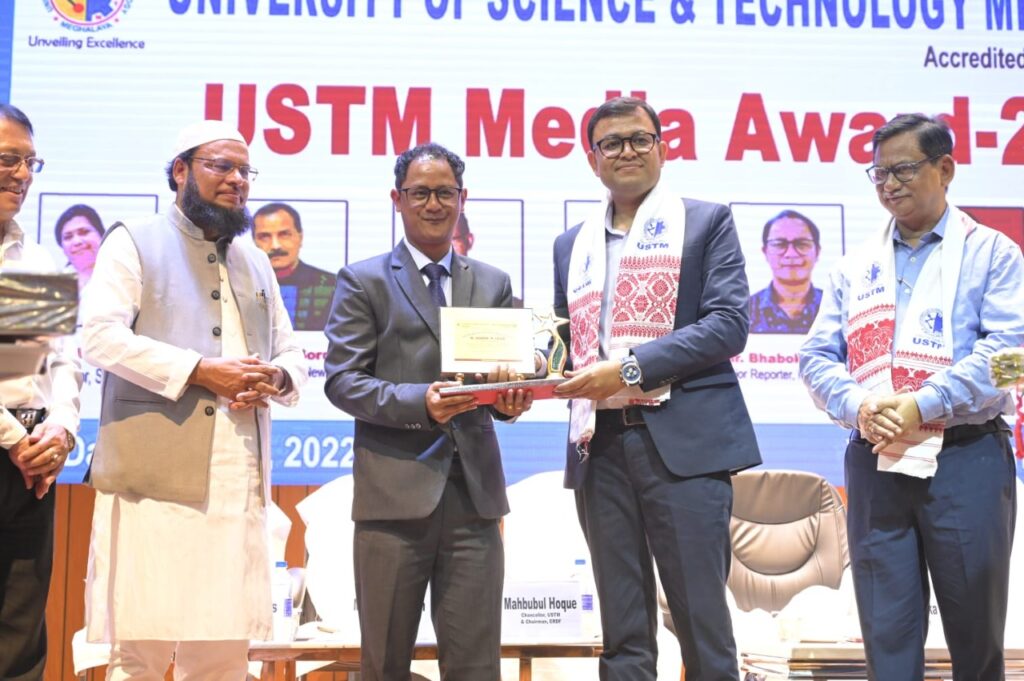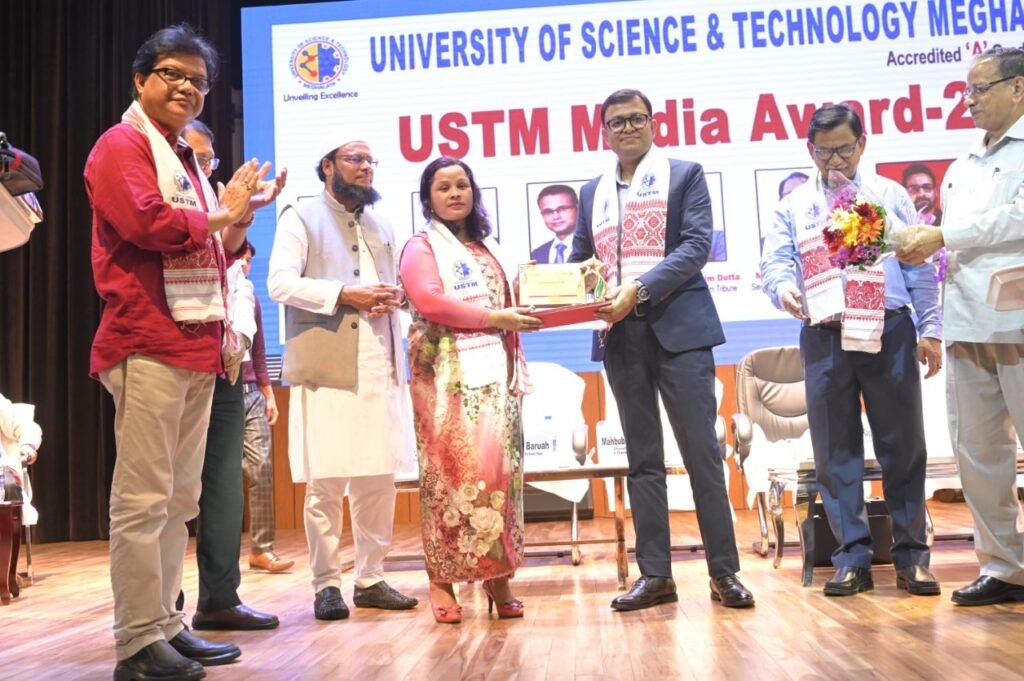 Na ka jylla Assam ia katei ka khusnam la ïohpdiang da u Manash Pratim Deka uba long u Assistant News Editor & Anchor jongka ND24, ka Tora Agarwala, Assistant Editor & NE Correspondent, Indian Express, Guwahati.
Ia kitei ki khusnam sha ki nongthoh bad nongpathai khubor la aiti da u Executive Editor jongka India Today u Kaushik Deka kum u kongsan ha kaba la ïadonlang ryngkat u Editor-in-Chief ka Prag News u Prasanta Rajguru, u Vice Chancellor ka USTM u Mahbubul Hoque, ki riewpawkhmat na ka jylla Assam bad kiwei kiwei.
U Kaushik Deka, u la iaroh iaki nongpyniaid jong ka USTM kaba la shimkhia ha kaban ai khusnam ia ki Nongthoh Khubor jongka jylla Meghalaya bad Assam bad iaka thaiñ Shatei Lam Mihngi kaban ai mynsiem ia ki ba kin dang bteng ban trei shitom namar ka kam thoh khubor kam long satia kaba suk bad ki nongthoh khubor ki mad ia kiba bun ki jingeh ha ka kam ban shakri ia u paidbah.
Hadien kane ka jingsam ia ki khusnam, la pynlong ia ka USTM Media Conclave-2022 halor ka mat "Is Media Still the Fourth Pillar of Democracy?" ia kaba la iashimbynta da u Kaushik Deka, u Prasanta Rajguru, u PJ Baruah, ka Anuradha Sarma Puzari, u Pranay Bordoloi bad ka Maini Mahanta.